SONOTEC: Ultrasound Specialist Celebrates Its 30-Year Anniversary – New Site Planned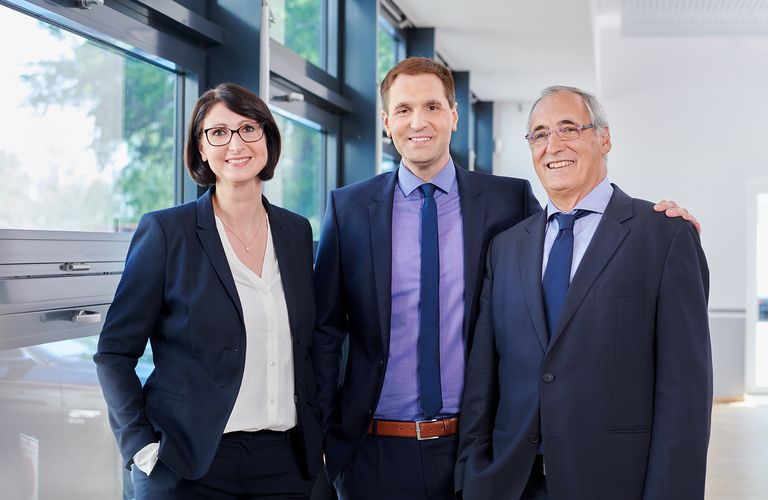 In 1991, shortly after the German reunification, physicists Dr Santer zur Horst-Meyer and Hans-Joachim Münch set up their own business. The beginnings of SONOTEC GmbH were adventurous and the "Treuhand" trust agency placed numerous obstacles in its path. But no one could stop this success story: In particular, the outstanding fundamental research and the technical know-how in the former industry stronghold of Halle (Saale) made the company a technology leader in ultrasound solutions. High-tech products from Saxony-Anhalt conquered the global market. Average growth of 15 percent per year, even in times of the coronavirus, is so strong that there is no longer enough space at the former "Institut für Lehrerbildung" (Institute for Teacher Training) on Nauendorfer Straße. SONOTEC is now developing its second corporate site on a 10,500-square metre block on Thüringer Straße in Halle (Saale). Together with other companies and research institutions this will once again create an ultrasound cluster in the region.
Hans-Joachim Münch, Founder and CEO of SONOTEC GmbH, had the following to say on the 30th anniversary: "This situation is primarily due to our 180 highly qualified employees, for whom we have remained a reliable employer even in times of the coronavirus – and the stimulating and inspiring collaboration with universities and research institutes in Central Germany. The fruitful dialogue between research and practice has led to the development of a number of marketable products. Our export ratio currently sits at 51 percent."
From the very beginning, SONOTEC GmbH had a visionary and innovative spirit – a success factor that would lead it to become a world-leading ultrasound specialist whose sensors are in particularly high demand in biotechnology and medical technology applications during the coronavirus pandemic. SONOTEC develops, produces and markets highly specialized measurement and testing technology worldwide with a focus on three Business Units:
Sensors for "Non-Invasive Fluid Monitoring": SONOTEC is a product specialist and technology leader in the contactless flow measurement and air bubble detection in liquid-filled tubes. In this area, the company develops sensors for medical technology, biotechnology and the semiconductor industry. Among other things, they are used as components in dialysis machines and heart-lung machines where they ensure the safety of patients.
"Nondestructive Testing": SONOTEC is a global technology leader in systems for the non-contact ultrasonic testing of modern fibre composites, which are primarily used in aircraft construction, as well as other areas.
"Preventive Maintenance": Leaking gas and compressed air lines and bearing damage are detected before they become a problem. This prevents failures and expensive repairs, meaning that this division makes a significant contribution to increased energy efficiency and environmental protection.
In addition to the target markets of industry, car manufacturing and medical technology, SONOTEC also develops and produces sensors for the manufacture of drugs and vaccines.
The company remains owner-operated and has been able to successfully manage the transition to a new generation: Since 2019, daughter Manuela Münch (business graduate) and son Michael Münch (mechanical engineer) have further strengthened the management of the family-owned company. But the start in 1991 was arduous: When they registered their business, the general response was: "Is that really something you can make a living from?" The Sparkasse Halle however believed in the physicists' business idea and supported them with a line of credit, supplemented by funding of 800,000 DM.
Manuela Münch, Managing Director of SONOTEC, explains: "We are seeing healthy and continuous growth in sales of an average of 15 percent per year with stable and above-average returns. So it seems that you can "make a living from it" quite comfortably – and also create your own success story made in Halle (Saale). We are very pleased with what the company has achieved, but use it primarily to draw strength and confidence for the future, in which we are investing heavily thanks to our profits. We want to use innovations – always customer-specific – to ensure that we remain a technology leader and continue to grow in the coming years. This is another reason why we will be building the additional SONOTEC site in Halle (Saale) – our commercial, emotional and technological home. In doing so, we want to make our contribution to once again creating a strong technology cluster for ultrasound in the region."