Bringing together our international SONOTEC distributor family in Halle (Saale)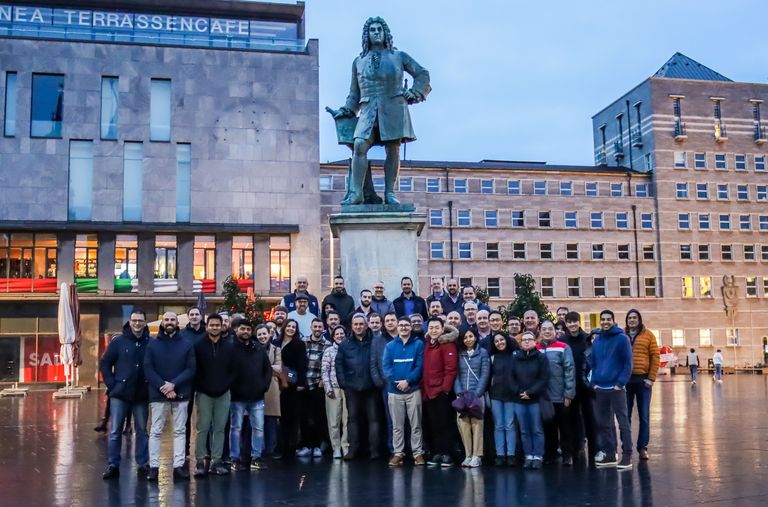 From March 20 to 23, the Preventive Maintenance Business Unit hosted the SONAPHONE DISTRIBUTOR DAYS. We were happy to welcome 33 representatives from more than 25 countries in Halle (Saale). Our distributors were able to learn more about the company and share their experiences.
4 days full of live demonstrations, practical training sessions and discussions about strategic goals - it was a very productive time. The SONOTEC team was more than happy to connect with all distributors and better understand their needs and learn how to be even more innovative. A series of informative presentations helped our representatives get a deep insight into our ultrasonic devices and software.
Round table discussions on leak detection, bearing inspection, partial discharge detection and steam trap testing gave us many new ideas. Our product experts were happy to provide our international representatives with further insights into our ultrasonic solutions for preventive maintenance.
We are very grateful to our international distributor family for many lively discussions about our ultrasonic inspection equipment for preventive maintenance. All of our partners received a certificate as an authorized distributor, followed by a handshake photo to capture this important moment.
The highlight of the event was a company tour at SONOTEC headquarters, where our representatives were able to meet our managing directors and see how our devices are created. All sales partners were able to take a closer look at the different areas of the company.
Christian Schreiber, Preventive Maintenance Business Director at SONOTEC, shares his impressions about the event :
"I am relieved, overwhelmed and super motivated. The intensive weeks of preparation have paid off and our concept has fully succeeded. We were able to refresh our personal connections to the long-time international sales partners and to inspire new partners about SONOTEC, the Preventive Maintenance team and our products. It was four intensive days of knowledge and experience exchange, practical training and networking. In addition, we created an atmosphere with the supporting program that was also really fun. Personally, I was pleased with the inquiries from the other departments of SONOTEC. The participation and curiosity though, we had met in the hotel, where the event took place, was great and shows the mutual interest in each other."
It was a great opportunity for all of us to talk about the exciting projects and further developments after the long pandemic break and to let all our representatives experience our ultrasonic solutions for preventive maintenance live.
Many thanks to all participants who made this event so great. We hope that all our distributors had a great time and that we could give them new impulses and knowledge about SONOTEC ultrasonic devices.
We would be happy to see all our international agents at the next SONAPHONE DISTRIBUTOR DAYS!