Interview with Michael Ihle, International Sales Manager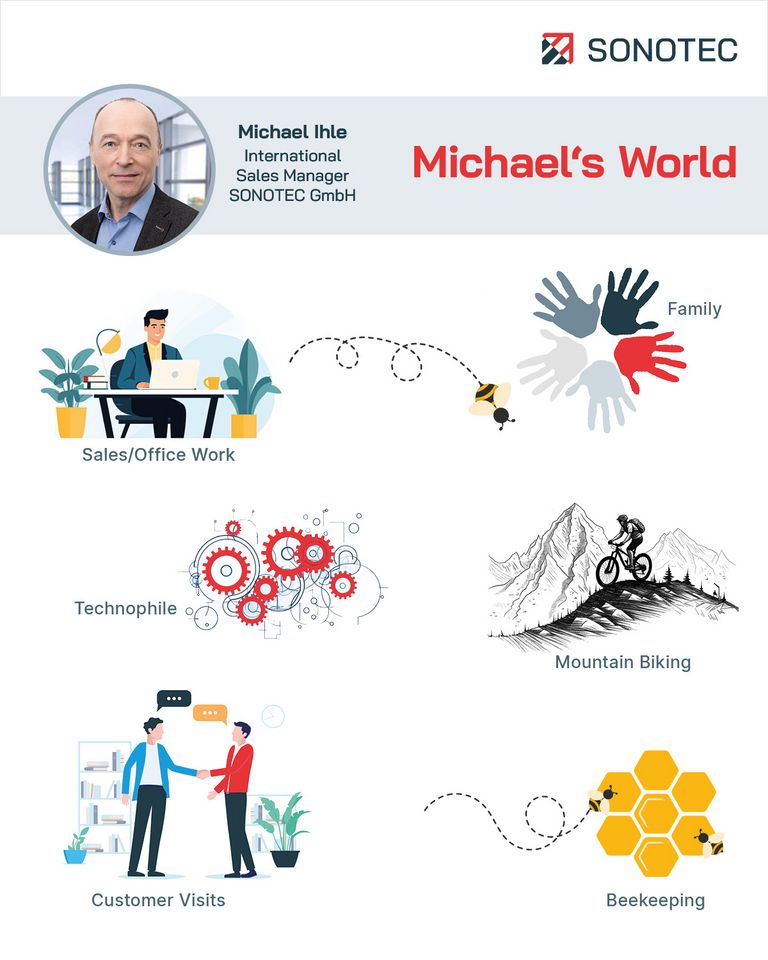 Our International Sales Manager Michael Ihle has been working at SONOTEC for half a year, specializing in ultrasonic transducers and customized transducers. During this time, he has already visited numerous customers and delved deeply into challenges in various applications, including rail and air transportation, pipeline inspection, and sheet metal testing.
Starting this Wednesday, you can meet Michael at the Railway Forum in Berlin, where he'll be delighted to showcase how SONOTEC GmbH supports testing tasks in the railway industry with their new trade show model.
We recently had a quick interview with Michael to learn more about him and his role at SONOTEC.
Spoiler alert: Did you know that Michael provides his colleagues with homemade honey?
Question 1: What is your role at SONOTEC and what are your tasks?
I am the International Sales Manager in the Business Unit Ultrasonic Transducers. My diverse responsibilities include customer support, new customer acquisition, product development and market analysis.
Question 2: Why SONOTEC and what makes SONOTEC special for you?
I come from the aerospace industry. Product management and the processes for developing high-tech products are very similar. The extremely high quality requirements are comparable. That's what attracted me. The team here is just great and I really enjoy my work.

Question 3: What is your life motto and what does your perfect Sunday look like?
My motto is: Falling down is an accident, staying down is your own decision. I am a positive thinking person. A perfect Sunday starts with a long breakfast with the family and ends after a hike with friends or family.
You have questions about Michael, his job, working at SONOTEC or our offerings? Do not hesitate to contact us!