SONOTEC for the first time with its own booth at SEMICON Europe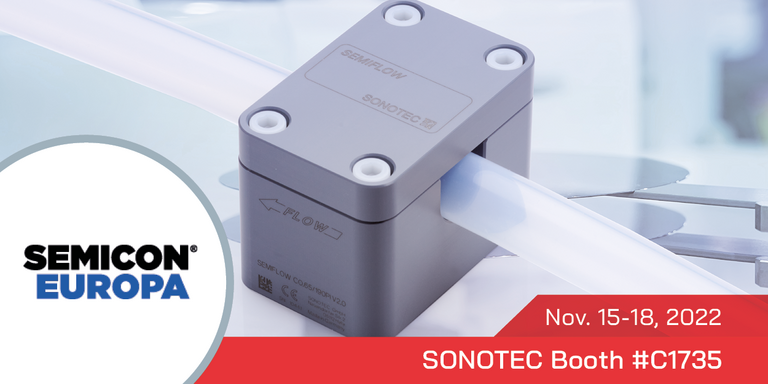 After the premiere in 2021 together with its sales partner S3 Alliance, SONOTEC exhibits at its own booth at this year's SEMICON Europe. From November 15 to 18, 2022, the specialist for ultrasonic measurement technology presents the non-contact SEMIFLOW® flow sensors at booth C1735 in hall C1 at the leading European trade fair for electronics manufacturing in the semiconductor industry.
SONOTEC is the industry leader in ultrasonic-based non-contact measurement technology, offering a broad portfolio of highly accurate, non-contact flow sensors and air bubble detectors. By implementing the compact SEMIFLOW ultrasonic sensors, developed specifically for the semiconductor market, fabs can maximize both uptime and yield in their wet chemical processes. At booth C1735 in hall C1, SONOTEC showcases its SEMIFLOW sensor series, which reliably measures the flow of abrasive, adhesive, corrosive and high-purity liquids in industry-specific hard plastic tubes and pipes.
The non-contact clamp-on architecture and the ultrasonic measurement method eliminate any risk of contamination or leakage through the sensor. Hence, the SEMIFLOW sensors are suitable for highly sensitive production processes requiring highest accuracy and process stability. The sensors are designed to measure accurately and reliably even under the most difficult conditions to reduce unplanned downtime.
"Increased cost pressure and the growing demand on the global market set the focus on process optimization in the semiconductor industry. Our non-contact flow and bubble sensors can monitor processes with liquids precisely and reliably, without any risk of leakage or contamination. This way, resources can be saved, downtime can be reduced to a minimum, and maximum yield can be achieved. By calibrating the sensors, precise flow measurement can be guaranteed for almost all homogeneous liquids," explains Anika Baumhauer, International Strategy and Sales Manager at SONOTEC.
The robust sensor design allows a long product life cycle and their minimal power consumption ensures low operating costs. Thus, the clamp-on sensors can contribute to sustainability strategies in the fabs. The SEMIFLOW sensors are also characterized by their compact housing design with integrated electronics. They require little space in the plant and can be easily integrated into existing process chains and architectures. SONOTEC offers the SEMIFLOW series in different sizes to cover a wide range of diameters of PFA, PTFE and other hard plastic tubing.
SONOTEC has developed the SEMIFLOW CO.66 PI Ex1 sensor series to be used in explosion-proof areas. The safe ultrasonic flow sensors for non-contact measurement on small and medium-sized pipes are designed for safe operation in production areas classified as Zone 1 according to ATEX/IECEx. The sensors are protected against explosion hazards caused by gases and vapors according to the standards of gas group IIB; the equipment protection level (EPL) is "Gb".
Meet SONOTEC at SEMICON Europe in Munich from November 15-18, 2022 at booth #C1735 in hall C1. Visit also our sales partner S3 Alliance at booth #B1261 in hall B1.