New chair of the DGZfP subcommittee on air ultrasonic testing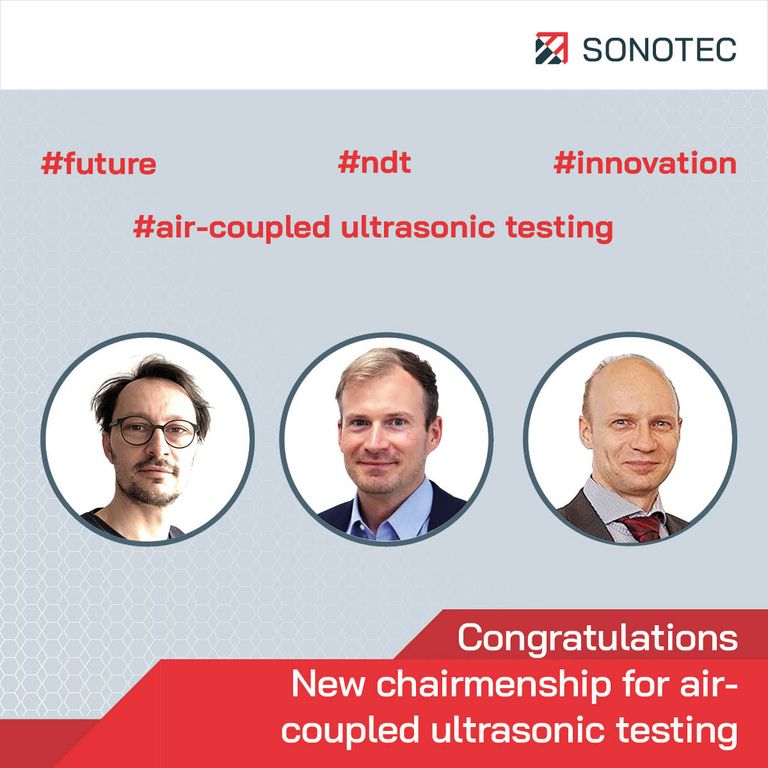 Three years after the establishment of the subcommittee for air-coupled ultrasonic testing of the "Deutsche Gesellschaft für Zerstörungsfreie Prüfung (DGZfP)", the first new elections were now due. With great pleasure, we would like to announce that the chairmanship has been taken over by Mate Gaal, supported by representatives Ralf Steinhausen and our esteemed SONOTEC colleague Martin Fuchs.
With 25 members from industry, universities and research institutions, the subcommittee has a broad spectrum of skills and experiences. As a result, the guideline US 08 "Characterization and verification of air-coupled ultrasonic probes" has already been developed and published under the previous chairmanship of Tobias Gautzsch and Mate Gaal.
Congratulations to all the members of the technical committee on their election and we will keep you updated on their future work. Together, they are sure to make further progress in the field of air-coupled ultrasonic testing and contribute to the advancement of the field.
Congratulations once again on your election and all the best for your future work!
You can also get more information about air-coupled ultrasonic testing from our website.