Premiere for SONOTEC at BIOMEDevice Silicon Valley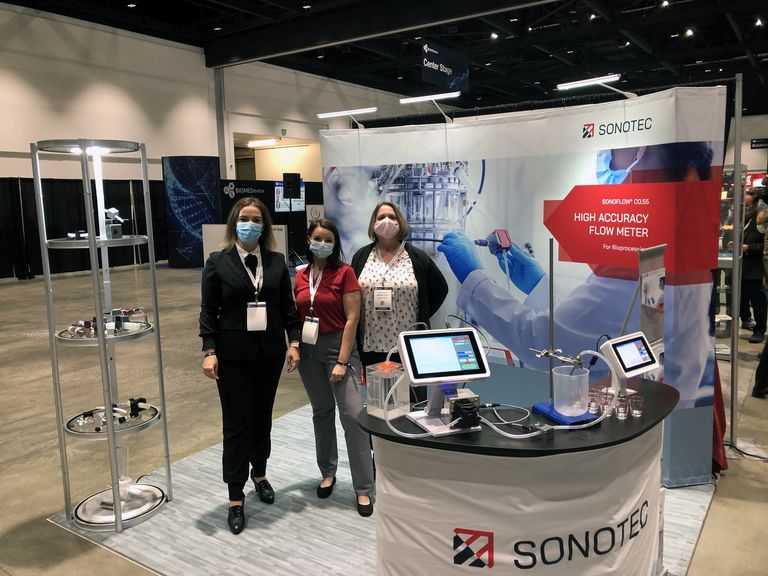 SONOTEC presented its product portfolio of non-contact flow and bubble sensors at the BIOMEDevice for the first time. The leading biotechnology event for the Silicon Valley area took place from December 8 to 9, 2021 in San Jose, California, USA.
Key to the ultrasound specialist's show presentation were the highly accurate non-contact flow meters SONOFLOW CO.55, which have been specifically developed for upstream and downstream monitoring in the bioprocessing industry and pharmaceutical production. The SONOFLOW clamp-on sensors are the only devices on the market to offer an integrated electronics board. The contactless sensor systems are suitable for applications ranging from process development to complex GMP environments.
The second highlight at booth 940 in the "San Jose McEnery Convention Center" were the SONOCHECK ABD air bubble detectors, which also meet the demands of the biotechnology as their clamp-on sensor design enables non-contact measurement straight on the tubing by eliminating any risk of contamination. The flexible silicone tubing is simply inserted into the sensor's measuring channel.
Melanie Schmidt, Business Unit Director "Non-Invasive Fluid Monitoring" joined the US colleagues at the show. She underlines the industry's strive for sustainability: "There is a huge interest in significantly reducing the carbon footprint, energy and water consumption. Our re-usable and non-contact clamp-on sensor systems contribute to meet these demands to guide single-use technologies as well as hybrid environments into a more eco-friendly approach."
About BIOMEDevice Silicon Valley
BIOMEDevice Silicon Valley addresses biotech engineers and companies focusing on the growing biotechnology market. This year, the event took place as a hybrid edition. The in-person conference and booth presentations were supported by a digital part with webinars and online product information before and after the live event.
Do you have any questions?
Feel free to contact us! We will be happy to help you.