SONOTEC at ECAB Congress 2021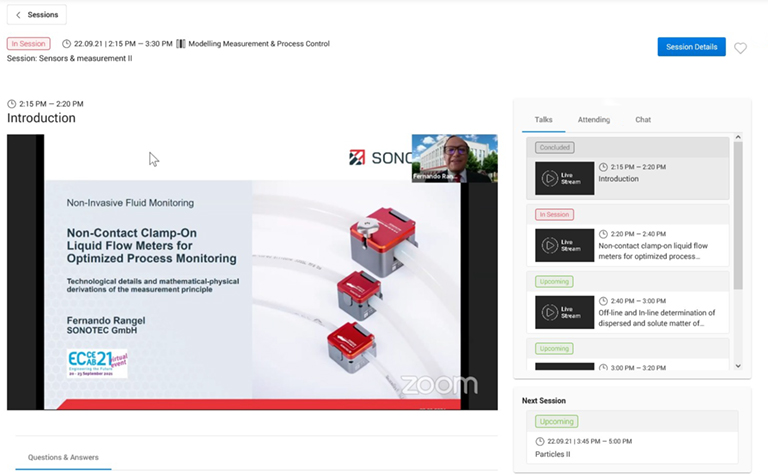 SONOTEC has been one of the speakers at the 6th edition of the "European Congress of Applied Biotechnology". On September 22, the ultrasound specialist hosted a lecture on the application of "Non-contact liquid flow meters for optimized process monitoring" in the bioprocessing industry.
The biannual congress addressed all areas of chemical engineering, biotechnology and bioprocessing. Held as a virtual event, this year's edition took place together with the "13th European Congress of Chemical Engineering" from September 20 to 23. Both conferences were organized by the DECHEMA, an expert network for chemical engineering and biotechnology in Germany. The company has been a member of the DECHEMA society for several years.
Session on Sensors and Measurement
For SONOTEC it was the first participation in the event. The lecture was part of the session "Sensors and Measurement II" which took place on the third congress day and consisted of three presentations. After an introduction by Prof. Dr. Bernd Hitzmann of the organizer's advisory board, Fernando Rangel, International Sales Manager at SONOTEC, spoke on the topic of "Non-contact clamp-on liquid flow meters for optimized process monitoring" and took the participants on a journey of the technological details and mathematical-physical derivations of the measurement principle. He pointed out the advantages of implementing a continuous, non-contact, contamination-free and highly accurate upstream and downstream process monitoring that guarantees process stability. Furthermore, the attendees learned how tubing properties affect the measurement performance.
Non-Contact Flow Meters for Bioprocessing Applications
The ultrasonic flow meter SONOFLOW CO.55 measures liquid flow rates accurately and reliably in flexible plastic tubing. Its clamp-on design as well as its non-contact measurement principle allow for repeatable use. With integrated electronics and thus minimized equipment footprint, the sensor is ideally suited for scale-up from process development to commercial applications in GMP environments.
Do you have any questions?
Feel free to contact us! We will be happy to help you.