SONOTEC with latest sensor technology at Compamed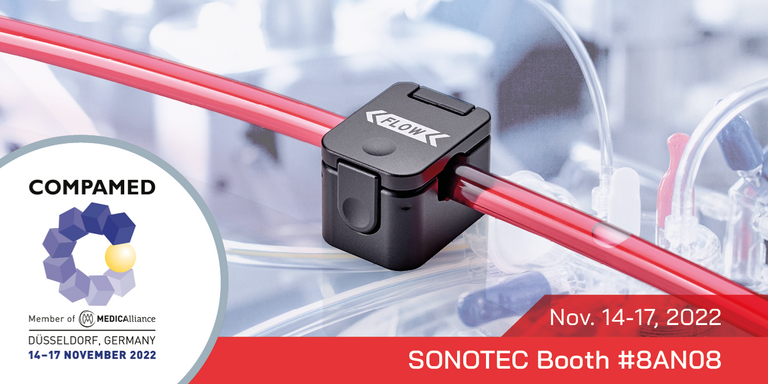 From November 14 to 17, 2022, SONOTEC exhibits at Compamed, the leading trade fair for state-of-the-art medical technology, in Düsseldorf, Germany. The ultrasound specialist presents the latest generation of the SONOFLOW® CO.56 Pro V2.0 flow-bubble sensor and the enhanced blood leak detector BLD03, as well as its wide portfolio of sensors for medical applications at booth N08 in hall 8A.
After a break due to the pandemic, SONOTEC showcases again its comprehensive sensor range for medical technology at Compamed. The industry leader offers both new developments and well-established ultrasonic sensors at its booth for international visitors. In order to answer questions regarding rules and regulations for the US market, colleagues from SONOTEC's US subsidiary join the German team.
In spring this year, the leading manufacturer of ultrasonic measurement technology launched the new generation of non-invasive SONOFLOW CO.56 Pro V2.0 flow-bubble sensors. The sensor, designed for the integration in medical devices such as extracorporeal life support systems (ECLS), sets new standards in non-contact ultrasonic sensors for medical applications – thanks to its improved multi-level safety concept and the enhanced measurement channel architecture.
The hybrid flow-bubble sensor combines flow rate measurement and reliable air bubble detection in liquid-filled medical tubing. The new sensor generation ensures highest patient safety and can be used in surgery rooms, intensive care units, as well as mobile emergency care.
SONOTEC developed the new BLD03 blood leak detector with the aim to meet the growing demand in the dialysis market. The enhanced sensor complies with the highest safety standards for components integrated into medical devices such as home dialysis machines.
"Stability, reliability and precision are top priorities in the development of our sensors for medical applications to ensure maximum patient safety at any time. Our sensors are one of the key elements in therapies where a patient's heart, lungs or kidneys are severely damaged and sufficient organ function cannot be achieved without additional support. Thanks to our long-term experience, know-how and close cooperation with leading medical device manufacturers, we have been able to set new standards in international medical technology with our sensors," explains Constantin Bartnitzek, Business Unit Director Non-Invasive Fluid Monitoring at SONOTEC.
At Compamed, SONOTEC presents its broad portfolio of non-invasive air bubble detectors, flow and flow-bubble sensors for installation in medical devices, and sensors for level detection.
Meet SONOTEC from November 14 to 17, 2022 at Compamed at booth N08 in hall 8A.
Do you have any questions?
Feel free to contact us! We will be happy to help you.