SONOTEC with new sensor generation at Interphex NY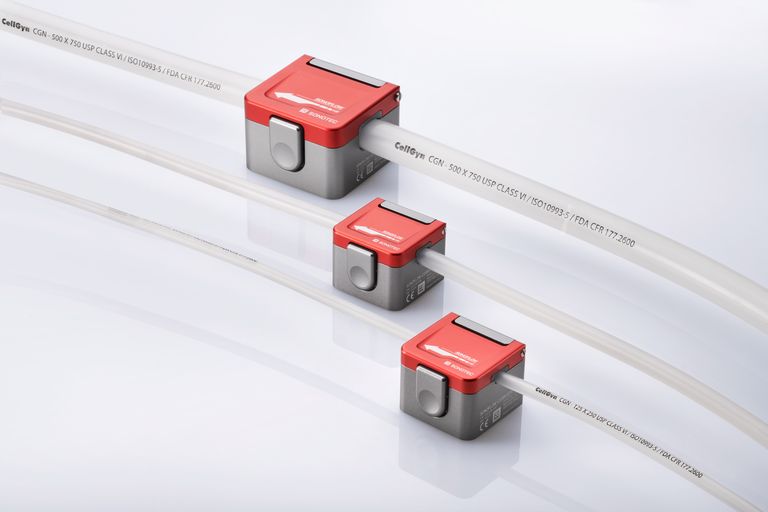 SONOTEC presented its new non-contact flow sensor generation SONOFLOW® CO.55 V3.0 at one of the major bioprocessing and pharma events in the USA. After three days of interesting discussions, live demonstrations and networking opportunities, SONOTEC considers the Interphex event in New York as a great success.
The ultrasonic specialist presented the prototype of its latest sensor development SONOFLOW CO.55 V3.0 for the first time to their audience. Based on the well-established V2.0 series, the new sensor generation has been significantly improved regarding measurement performance, such as repeatability, accuracy and zero drift stability. Being able to measure highly accurate even in the lowest flow range makes the sensor a perfect fit for many upstream and downstream processes in the biotech industry.
The improvement of the measurement repeatability of the sensor is particularly important for applications with repetitious measurements, such as filling or dosing. With the new channel design, optimized for typical bioprocessing tubing, SONOTEC achieved a tremendous increase of the clamp-to clamp repeatability of the SONOFLOW CO.55 V3.0. Various tests show a significant improvement of the overall accuracy even after multiple re-insertions of the tubing."On top of the mentioned advancements, we managed to virtually eliminate all drift, making our new SONOFLOW CO.55 V3.0 the most stable clamp-on flow sensor on the market," comments Melanie Schmidt, Business Unit Director at SONOTEC GmbH.
Highest accuracy for various bioprocessing applications
The highly accurate SONOFLOW CO.55 flow meters are ideally suited for low flow applications in laboratories, process development and complex GMP production, improving process stability and product quality according to the PAT framework. The clamp-on technology offers the possibility to detect and monitor flow rates on flexible silicone tubing from the outside, eliminating any risk of contamination. The non-invasive ultrasonic sensors can be used in single-use as well as hybrid environments of the bioprocessing industry, supporting corporate sustainability policies. Starting from media preparation via feeding and acid / base delivery throughout all process steps to the final fluid dispensing during fill and finish, the flow meters can be easily applied to monitor and control flow rates and volumes reliably.
Do you have any questions?
Feel free to contact us! We will be happy to help you.